Windows 10 Enterprise is the best and popular operating system. In most cases, many individuals are unable to find authorized & legitimate iso file for setting up windows 10, which is why we chose to offer you an official bootable iso file for windows 10 enterprise. Microsoft Windows 10 Enterprise developed on Windows 10 Pro. It has enterprise-grade functionalities and capabilities to fulfill the requirements of enterprise-level businesses. It gives users high-level functionalities and features and protects them from the advanced security risks highly targeted at PCs, specific programs, and sensitive business data.
Here we are providing you the full versions of Windows 10 Enterprise 32 Bit and 64 Bit disk image ISO for free. Remember to keep in mind, Windows 10 Enterprise download may take a couple of hours, The time varies according to your internet bandwidth and computer speed.
Software specs
Developer

Edition

Enterprise

License

Free | Trial

Available in

English

File Name

Windows 10 Enterprise 64 Bit | Windows 10 Enterprise 32 Bit

File Size

3.6 GB | 2.9 GB

Category

Last Updated

March 27, 2023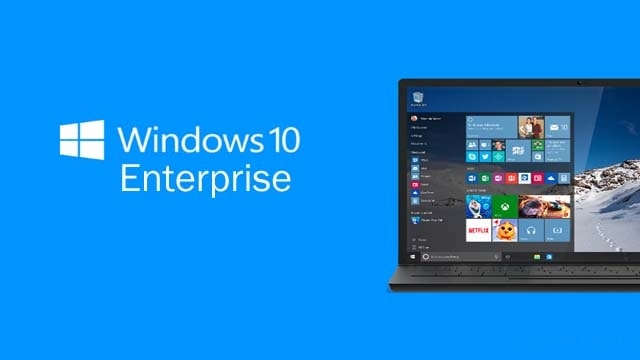 Microsoft Windows 10 Enterprise ISO Guide
Microsoft Windows continues to be the most preferable tool for many businesses. Windows 10 consistently unveiled many new components and features to help small and large businesses to manage their data. Usually, Windows 10 Enterprise RTM 32 Bit or 64 Bit ISO is apparently just like Windows 10 Pro. But Microsoft Windows 10 Enterprise ISO comes with all the popular features of Windows 10 Pro, along with more advanced features to improve IT-based businesses.
Windows 10 Enterprise also facilitates the number of ways for OS deployment for employees and detailed administration management. It also includes almost all the modern innovative functionalities and lots of free security updates for Windows 10.
Following is the list of unique features and capabilities introduced in Microsoft Windows 10 Enterprise download.
New Features and Capabilities of Windows 10 Enterprise Free Download
Long Term Servicing Channel (LTSC):
It is the exclusive feature in Windows 10 Enterprise. It assures the long time frames between operating system feature updates.
AppLocker: 
Group policy configuration which defines rules and restricts a user to use only limited apps and programs.
Windows Autopilot: 
Permits the administrator to deploy and set up new laptops without the need to install and configure the new OS image to the device.
Windows Defender Advanced Threat Protection: 
Sophisticated and intelligent security solution pack helps to protect, detect, and take actions against harmful programs and threats.
Windows To Go Creator:
Make it easier to copy Windows 10 Enterprise ISO image to portable drives and remains isolated from the host device operating system.
Microsoft App-V:
The Microsoft application virtualization makes real-time application streaming possible for any specific client from a virtual application server.
Credential Guard: 
Protects user's sign in data from theft by separating it from remaining of the Windows 10 operating system.
Device Guard: 
Device Guard is a mixed security feature of hardware and software that once set up collectively, will secure a device down to ensure that it is able to only run authentic programs which you specify in code integrity policies.
User Environment Virtualization: 
With this feature, you can Record and centralize applications and Windows 10 settings.
Windows Store for business:
The Windows store for business provides different applications and license which are useful for businesses and IT administrators.
Enterprise state roaming with Azure: 
This feature allows you to Securely synchronize your organization data over the Azure cloud.
Comparison of Microsoft Windows 10 Enterprise and Pro Editions
Basic features of Microsoft Windows in both versions of Windows 10 are almost the same. Additional features like BitLocker, enterprise mode internet explorer, assigned access and remote are also offered in Windows 10 Enterprise download and Pro. But Windows 10 Enterprise edition has some advanced features. Some of the exclusive features of Windows 10 enterprise ISO download are direct access, Windows to go creator, AppLocker and BranchCache.
Microsoft Enterprise Edition of Windows 10 is suitable for average and large scale businesses while Pro version is mostly used in small businesses. The license of Windows 10 Pro is of $199.99 while Windows 10 Enterprise Edition license costs $84 per user per year.
Microsoft Windows 10 Computer System Specifications and Requirements
Following is the minimum System Specifications to install Windows 10 on your computer system.
Processor Speed: 1 GHz or more.
Hard drive space: Minimum16 GB and 32 GB hard disk space is required for 32-bit & 64-bit OS respectively.
RAM Size: Minimum 1 GB for Window 10 32-Bit and 2 GB for Windows 10 64-Bit system architecture.
Graphics card and screen resolution:  DirectX 9 or higher card and minimum 800×600 display.
To install Windows 10 additional features and updates, you must have free hard drive space and internet connection.
Download Windows 10 Enterprise Full Edition Untouched ISO for Free
If you're planning to install Windows 10 Enterprise operating system on your device then download a free untouched Windows 10 Enterprise ISO for free. Microsoft Windows 10 Enterprise ISO download is available as "Windows 10 enterprise 32-Bit" and "Windows 10 Enterprise 64-Bit". Keep in mind this is original and legal Windows 10 Enterprise disk image.
Windows 10 Enterprise Alternatives for Windows OS