Update:  Rufus New version arrived. Pete Batard/Akeo has released a new version of Rufus, i.e. Rufus 3.8 with new features, updates, and enhancements. Get the Rufus download link for Windows and Mac at the bottom to download Rufus 3.8 version.
Download Rufus 3.8 Free ISO Software
Reliable USB Formatting Utility i.e. RUFUS 3.8 is a free and open-source utility program that allows you to make a bootable USB for Windows, Linux, and other operating systems. Rufus bootable USB tool works well with all versions of different operating systems like Windows, Mac, Fedora, and Linux. The latest version of Rufus free ISO Software unveiled with good features and a better interface.
Rufus software is truly fast and two times faster than the Windows 7 USB download tool, UNetbootin or Universal USB Installer while making Windows 7 bootable USB from ISO file. It is also faster while creating a Linux bootable USB from an ISO file.
Tests performed by users show that the procedure of making a bootable ISO image on a USB flash drive carries about 30% less time than Rufus alternatives.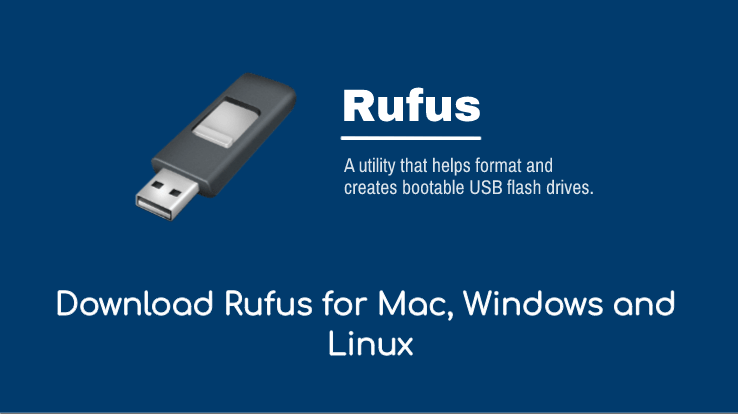 Rufus does not need installation and is easy to start. When you run Rufus, it detects your USB flash drive automatically. If you want to create a bootable USB Drive; Download Rufus utility and run it. Now select your USB drive you need to use and partition option–it's worth mentioning that Rufus also works with a bootable UEFI drive, MBR Partition scheme and GPT boot.
If you want more configurations, Rufus allows you to set configurations like the file system, Partition Scheme, cluster size, quick format, etc.  Rufus also adds certain advanced format options that assist your drive to work well with older desktops.
Key Features of Rufus 3.8 Free Download
The following are the key features of Rufus free download.
Rufus Format USB flash drives, pen drives and supports commonly used NTFS, FAT, FAT32, exFAT, ReFS and UDF file systems.
It is available as Rufus executable and portable software.
Rufus portable is Ready to use. No installation required but creates some registry keys in the registry.
Rufus is available in 39 different languages with an easy and user-friendly interface.
The advanced option in Rufus includes a check device for bad blocks and can calculate MD5, SHA-1 and SHA-256 checksums of the ISO file.
Rufus is two times faster than UNetbootin USB bootable software, Universal USB Installer, and Microsoft's official Windows USB/DVD Download Tool.
Rufus supports DOS bootable USB drive and also creates UEFI or BIOS bootable USB drive and UEFI bootable NTFS
You can create bootable drives from ISO files of Windows, Linux, Fedora, etc. by using Rufus.
Install Windows 10 Using a Bootable USB Drive
The installation of an operating system from a USB drive is fast compared to a DVD. If you're planning to install an operating system like Windows 10 ISO or Linux from an image file, there is a need to create a bootable USB drive.
There are many programs like built-in Command Prompt, Microsoft's official Windows USB/DVD Download Tool, etc. available to create a USB drive but these programs are slow and not working well while creating windows 10 ISO file bootable.
So this time around, I tried another fast and high profile USB bootable software, Rufus.
How to use Rufus for Linux?
Download Rufus 3.8 and open the program. Now, by using a user-friendly interface of Rufus for Linux, select the desired USB flash drive, partition scheme, file system, and cluster size. You can even do more configurations if required.
What type of files does Rufus Support?
Rufus works well with standard and compressed .iso files of the Windows operating system and Linux distributions. It runs smoothly with several raw disk image files. It also supports the GRUB boot loader.
Is the Rufus Portable Version available?
Yes, Rufus 3.8 portable is also available. It saves and transfers the user's specific settings when transferring from one device to another.
Can I Make a VHD Drive for Use With Rufus?
Rufus is also used along with Windows Virtual Disk Drives in both the VHD and VHDX versions. Individuals who are working with Windows 7 or later can make VHD drives quickly for many kinds of applications.
Why can't I find my USB drive in Rufus?
For many who are dealing with an error while trying to use their USB flash drives, they should download the latest version of Rufus and enable the List USB Hard Drives option in the advanced options panel. Remember that Rufus doesn't support non-flash drives.
Windows 10 reports that Download Rufus ISO to Bootable USB Windows includes viruses and malware.
Rufus is trusted and free from viruses. However, people who want to discredit our work reported it to windows 10 defenders which transform results in false positives. Download Rufus 3.1 with new timestamps to fix it. If anyone still identifies a problem in Rufus download, they should contact the Rufus official developer.
Does the Rufus application change the Windows registry?
Yes, Rufus requires modifying registry keys to save certain types of data. If you're using Rufus portable, then it will temporarily create registry keys. Rufus really needs it to examine the software functionality and check for new updates.
What is the Rufus Bootable Supported File Systems?
Rufus bootable facilitates file systems like FAT, FAT32, NTFS, exFAT, and UDF.
What are the functions performed by Rufus Format options?
Rufus format option allows you to check devices for bad blocks/ sectors. You can quick format your USB flash drive with Rufus portable and executable tool. You can also make extended labels and image files – to help with the display of worldwide labels and the making of autorun.inf.
Download Rufus for Windows and Mac
Download the latest release of Rufus 3.8 USB bootable software by pressing the download button. Rufus is fast and simple to make USB drive bootable for Windows 10. For more free and open-source USB bootable software and applications, keep visiting winwares.