PowerISO comes with an all in one ISO software solution with some advanced features. Download PowerISO for Microsoft Windows 10 by clicking on the Download Button. With PowerISO download, you can do anything with the ISO files and disc image files.
Software specs
Developer

Version

7.6

License

Free Trial | US$29.95

Available in

English

OS Compatibility

Microsoft Windows

File Name

PowerISO7-32-bit.exe | PowerISO7-64-bit

File Size

5.8 MB

Category

Last Updated

April 16, 2020
What is PowerISO?
PowerISO is a shareware and advanced CD/DVD image file utility software program. It enables you to open, create, mount, extract, convert, encrypt, burn, and compress CD/DVD image files. It is usually used to mount an ISO file by making virtual CD/DVD drives.
PowerISO download for Windows 10 also facilitates users with shell integration. So you can copy a file to a clipboard or drag and drop a file. It supports almost all CD/DVD, BD-ROM, and ISO image file formats and can perform lots of file operation on it.
Features of Free Download PowerISO For Windows:

The following are the popular features of PowerISO download:
PowerISO processes all the CD, DVD, BD-ROM image file formats such as DAA, ISO, BIN and CDI extensions.
PowerISO software creates a bootable USB or CD/DVD image file and also mounts an image file by making an internal virtual drive.
It can compress any file or folder to a password-protected archive. The compression ratio of PowerISO is better. You can also split the compressed archive into several parts.
PowerISO free download mounts any image file or archive file to internal virtual drives. So you can use the file without extracting it.
You can create, edit, extract and burn an ISO file. You can also optimize, change, and add boot information to a file.
PowerISO supported file formats include BIN, CUE DAA, UIF, DMG, MDF, VCD, C2D, BIF, BWI / B5I. Other file formats are LCD, IMG, CDI, CIF, P01, PDI, NRG, and many more.
It can also create up to 23 virtual drives to view and modify image files.
It can burn audio, video, apple DMG, and other multimedia files to popular file formats like CD-R, CD-RW, and DVD-R, etc.
PowerISO works fine as a converter. It can convert an ISO file to BIN, BIN to ISO, DMG to ISO and all other popular files to BIN and ISO.
Advanced features include making an audio disc, burning MP3, APE, WAV and WMA files to CD, Rip the audio CD to MP3, etc.
PowerISO download creates a bootable USB drive for all editions of Microsoft Windows.
PowerISO has a simple interface with different languages. It also supports functions like copy-to-clipboard and drag-and-drop, etc.
Is Free Download PowerISO for Windows Trusted and Secured?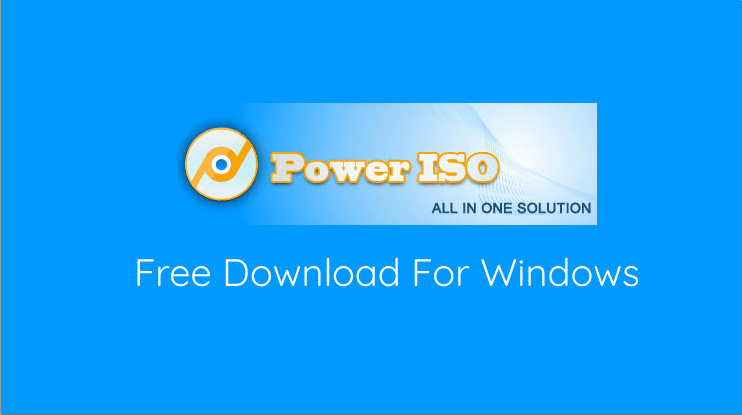 Yes, PowerISO download is safe and free from viruses like other disk utilities. As the PowerISO for Windows distributes as an executable file, which is why antivirus may detect it as a virus or Trojan. Always download software from recommended websites to avoid malware and viruses. Click on the below button to download a free version of PowerISO for Windows 32 bit and 64 bit.
Can PowerISO freeware convert between image formats?
Yes, PowerISO freeware can convert image files like ISO to BIN, apple DMG to ISO and many other formats.
List of Operating Systems that Support Power ISO?
It is compatible with Windows 98/Windows 2000/Windows XP/Windows Vista/Windows 7/Windows 8/8.1/Windows 10. It is available for both 32-bit and 64-bit operating systems.
What are the constraints and boundaries of an unregistered copy of PowerISO Download?
The free PowerISO download restricts you from creating an image file under 300MB. Some advanced functions are also not accessible for unregistered PowerISO copy.
Does Power ISO work with non-ISO formats?
PowerISO is also compatible with non-ISO file formats. It supports Apple DMG, BIN and Direct Access Archive (DAA).
How to make a virtual drive with PowerISO in Windows 7 & 10?
Whenever you mount a file to PowerISO, it will auto-create a virtual drive.
What are the alternatives to PowerISO to create Windows 10 bootable USB drive?
The top alternatives to PowerISO for Windows, Linux, and Mac are Rufus, Etcher, and UltraISO.
How to mount an ISO file?
Once you have installed PowerISO software, right-click on a specific ISO file. Select the option Mount image to drive from the right menu.
How can I make an ISO File using Windows 10 PowerISO?
To begin with, open PowerISO software and click on Add to create an ISO file.
How can I set up a PowerISO bootable rescue disk drive?
To begin with, insert the USB disk drive or DVD. After that, download PowerISO bootable rescue media program from the trusted website. Run the software and add the particular files to the rescue media. After this, enter the BIOS by pressing the function key. From the boot menu, the rescue disc to the primary boot device.
PowerISO Free Download for Windows System Requirements
Compatible with Windows 98, Windows 2000, Windows XP, Windows Vista, Windows 7/8/8.1/10.
Intel Pentium 166MHz or above processor required.
RAM memory of at least 64MB.
Required 10MB hard disk space.
Free Download PowerISO for Windows 32-bit and 64-bit
You can freely download a PowerISO offline installer for Windows 32 and 64 bits. To get started, click on the above download button. This may take some time to complete the PowerISO download.