What is UltraISO
UltraISO software is a CD/DVD image utility program for Microsoft Windows operating system. It is a shareware program and developed by EZB systems. UltraISO download offers a lot of functions like CD/DVD imaging, burn CD/DVD image, convert and mount ISO image files, compress ISO files, create and check CD/DVD checksum.
Software specs
Developer

Version

UltraISO 7

License

Free / Trial

OS Compatibility

Microsoft Windows

File Name

UltraISO.exe

File Size

2.2 MB

Category

Last Updated

April 7, 2020
UltraISO for windows 7 allows you to make a bootable disk image, extract, load and save boot file from CD/DVD. If you want to access data from an ISO file, UltraISO will make a virtual drive on your PC or laptop. UltraISO free download is specifically designed for Windows OS and has easy to use interface.
Features of UltraISO Image Software
UltraISO download for windows performs a variety of functions. Some of the primary features of free UltraISO are as follows.
UltraISO software makes standard ISO image files.
This software helps to make bootable CD/DVD drive.
UltraISO makes a bootable USB drive.
Almost all Image files can easily modify with UltraISO download.
One of the key feature of the CD/DVD image software is it converts different image file formats like .bin, .img etc. to standard ISO file.
It creates and mounts image files to virtual CD-ROM.
Latest Version of UltraISO software supports UEFI bootable image and UDF disc format.
It also assists you to create and verify CD/DVD files checksums.
UltraISO latest version is User-friendly and Available in several languages.
UltraISO extracts and compresses files and also supports AES encryption.
How to Make Bootable DVD Using UltraISO for PC
Firstly, download free UltraISO software on your PC. Install it on your computer by following the instructions. After successful installation of UltraISO open the program, browse and open your ISO file in UltraISO software. Now Insert a blank CD/DVD in a computer DVD drive and click on Burn CD/DVD image icon. A new window will open, click on the burn button. Now your iso file will start burning on CD/DVD. It will take some time. After successful burning, close the program. Now you can use your CD/DVD as a bootable drive.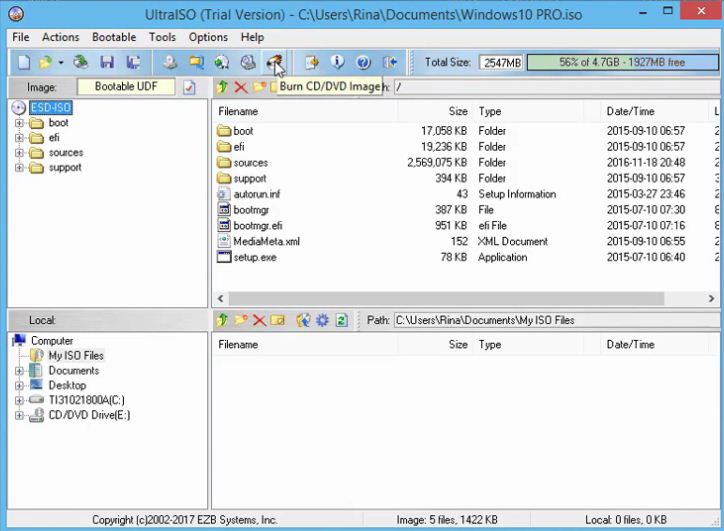 UltraISO Download For Windows 7, Windows 8 and Windows 10
UltraISO free download is a good software to create, edit, burn and convert CD/DVD image. It is also used as virtual DVD emulator. UltraISO trial version is limited to a maximum 300MB ISO image while a premium version of UltraISO is a paid version and has no limit for ISO image files.
You can download a free UltraISO copy for Windows 7/8/8.1/10 by clicking on the download button given below. UltraISO works nicely with Microsoft Windows 32-bit and Windows 64-bit Operating Systems.
This is the free trial version of UltraISO utility software. The 'Free Trial' version is limited to create and burn image files i.e. ISO files of 300 MB or less. If you're looking for a free USB bootable program, then download Rufus and create bootable USB drives with no limitations.
Free UltraISO Download Software System Specification
UltraISO Software is only available for the Microsoft Windows Operating System i.e. Windows 2000, Windows XP, Windows Vista, Windows 7, Windows 8, Windows 8.1 and Windows 10.
CPU required with minimum Intel Pentium 166MHz.
At least 64MB RAM.
Minimum 10MB free space is required in a hard drive.
CD-ROM is also required to make CD/DVD bootable.