The latest version of Win32 Disk imager released with new features and improvements. Its features like disk image file verification, new SHA1 and SHA256 checksums, saves last used folder and add different language translations. Download Win32 Disk Imager for Windows 10, 8, 7, XP with 32-bit & 64-bit platform for free.
Software specs
Developer

Version

1.0.0

License

Free

Available in

English

OS Compatibility

Microsoft Windows

File Name

Win32 Disk Imager-1.0.0

File Size

12 MB

Category

Last Updated

March 26, 2020
Win32 Disk Imager Overview
Win32 Disk Imager For PC is a utility program to write image files for Microsoft Windows. It is developed in C++ and QT binaries. With this software, you can write image files to your USB drives, pen drives, and SD cards and CF cards.
It is a small disk image writer program with minimalistic, clean and classic GUI user interface. It is free and open source program with all the features to write simple iso disk image files. This program comes in beta version so it may have some issues while writing files to removable disks.
Win32 Disk Imager for windows can only write raw disk iso image files to USB or SD cards. it does not support CD-ROM to write. It is available for all version of Microsoft Windows and also works fine with Windows Server 2016/2012/2008.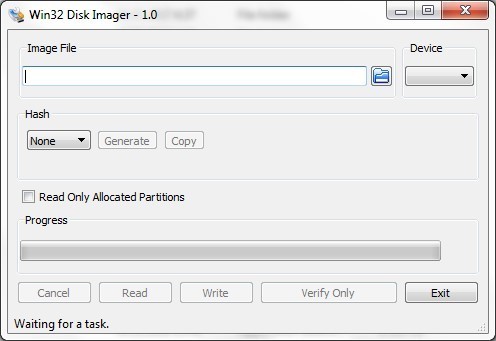 Primary Features of Win32 Disk Imager For PC Windows

Win32diskimager ISO is an open source program to write raw ISO disk image files to removable media drives.
It is a handy and straightforward program to write ISO images to SD card or USB media.
The latest release allows you to copy MD5 checksum or SHA-1 hash algorithms to the clipboard. Use it whenever you need to check the validity of image files for other programs. To copy MD5 checksum, always check the "MD5 Hash" Checkbox. It will give you an MD5 Checksum after the disk image file is successfully read.
Disk Imager win 32bit is also available as portable. It is also used to make back up your files to USB drives and restore it later.
It also allows you to write iso disk image files to removable drives or SD cards.
How to Use & Download Win32 Disk Imager Software

If you want to write an image file with this utility, simply download Win32 Disk Imager Setup. After download, open and extract files. This tool requires no installation to write ISO files.
Now open this application and select the iso disk image file from the hard drive. Once you have selected the iso file click on the open button. Now insert a removable drive to your PC, it will detect USB drive automatically.
After this click on write button from Win32 Disk Imager application, a pop up with 'confirm overwrite' message will appear. Click on OK button to confirm iso image write on a USB drive. After some time your disk image will successfully write on a USB drive.
Win32 Disk Imager ISO System Requirements
This disk image tool only Supports Microsoft Windows 10/8/7/Vista/XP.
Minimum 13 MB Hard Disk Space requires to install win32diskimager.
Download Win32 Disk Imager For PC Windows 10/8/7/XP
Finally, Win32 Disk Imager 1.0.1 free download is here. Download it by clicking on the download button. This tool is a free and 100% safe program.
If you want to download the latest version of software and disk image tools for Microsoft Windows, Mac OS and Linux Distributions. keep visiting us as we update our software on a daily basis.
Win32 Disk Imager Alternatives 2020
If Win32 Disk Imager didn't work for you. You can also try some of these famous alternatives:
UltraISO – Bootable CD/DVD image utility developed by EZB Systems. You can also download it for free on a trial basis.
Rufus – An open source and lightweight tool for Windows, Mac and Linux to create bootable USB flash drive. You can also use Rufus to create BIOS and UEFI USB bootables.
PowerISO – Powerful image utility to do all tasks like burn image file, create, edit, compress, mount and extract ISO files. Also, assist you to create Bootable USB Drive
UNetbootin – Cross-platform utility to create bootable Live USB drives for Ubuntu and Linux distributions.