Universal Netboot Installer or UNetbootin is free and open source bootable USB program. UNetbootin download is a small utility that can create bootable Live USB drives for Ubuntu, Fedora and other Linux distributions. It helps users to install Linux on their device without a DVD. UNetbootin is a cross-platform application and available for Windows, Linux and Mac OS.
Software specs
Developer

Version

Release 677

Stable Release

Release 677 | January 21, 2020

License

Free

Available in

English

OS Compatibility

Microsoft Windows, OS X, Linux

File Name

UNetbootin-Windows | UNetbootin-Linux | UNetbootin-Mac

File Size

4.4 MB

Category

Last Updated

March 27, 2020
UNetbootin for Linux software works smoothly with many distributions of Linux like Fedora, Ubuntu, ArchLinux, Linux Mint, Debian, openSUSE and many others. It is easy to create a bootable Live USB using UNetbootin. It allows you to download any of the Linux distribution, you prefer or you can select your own Linux distribution ISO file.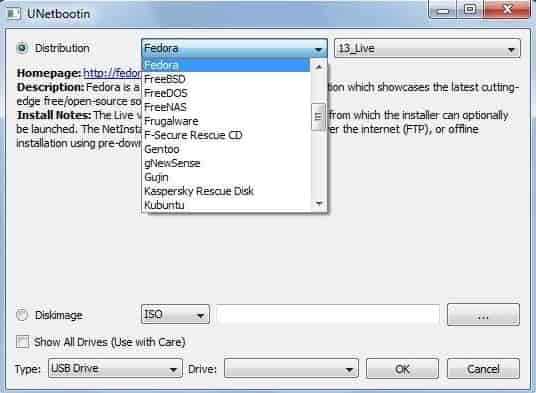 Beside this, UNetbootin for linux provides a lot of other system utilities which are as follows:
Parted Magic – A powerful Linux distribution software with disk management features like disk partitioning, disk cloning, disk formatting, data rescue and benchmarking.
Smart Boot Manager – supports computers to boot from CD-ROM, floppy drive.
SystemRescueCD – repair unbootable or damaged computers after operating system crash.
NTPasswd – a small tool allow you to reset user password and modify windows registry.
Super Grub Disk – allow you to boot from several operating systems when you are cannot boot into it by conventional means.
Ophcrack – a utility software to recover the Windows password.
Dr.Web Antivirus – a reliable security software blocks viral intrusions.
Kaspersky Rescue Disk – utility to detect and removes bad threats from an operating system.
Other utilities in UNetbootin for Linux includes F-Secure Rescue CD, Backtrack, Gujin and FreeDOS.
Primary Features of UNetbootin For Linux Download
Following are the primary features and functions, you can perform after the UNetbootin download.
The current version of UNetbootin software creates a bootable live USB drive.
It automatically downloads Linux distribution ISO file or you can manually specify your own image file or ISO file from your PC.
UNetbootin works good with all version of Linux distribution including Ubuntu, Linux Mint, Fedora, Kubuntu, Zenwalk, PCLinuxOS, Xubuntu, Slax, Sabayon Linux, Gentoo, MEPIS, LinuxConsole, Frugalware Linux, xPUD, Puppy Linux, Elive, CentOS, FreeBSD, NetBSD, 3CX, Lubuntu, Debian, OpenSUSE, Arch Linux, Damn Small Linux and SliTaz.
Universal Netboot Installer also supports various system utilities like Parted Magic, SystemRescueCD, Super Grub Disk, Dr.Web Antivirus, F-Secure Rescue CD, Kaspersky Rescue Disk, Backtrack, Ophcrack, NTPasswd, Gujin, Smart Boot Manager and FreeDOS.
UNetbootin also supports several languages.
How to use UNetbootin for Linux, Ubuntu and Windows Software?
After you download a free version of UNetbootin for Linux, Ubuntu and Windows Install the program on your device and open it. Select the distribution and the distribution version or browse your own distribution ISO file. Select the USB drive you want to make bootable and press OK. That's it.
Remember that some of the Linux software version requires some extra boot options and does not directly support booting from USB flash drive.
Antivirus reported that UNetbootin Download Includes Trojan and malware.
This is a false positive. UNetBootin software is open source and trusted software. Before installing it on your device, make sure you download UNetbootin from a trusted source.
Win32 Disk Imager Alternatives 2020
If Win32 Disk Imager didn't work for you. You can also try some of these famous alternatives:
UltraISO – Bootable CD/DVD image utility developed by EZB Systems. You can also download it for free on a trial basis.
Rufus – An open source and lightweight tool for Windows, Mac and Linux to create bootable USB flash drive. You can also use Rufus to create BIOS and UEFI USB bootables.
PowerISO – Powerful image utility to do all tasks like burn image file, create, edit, compress, mount and extract ISO files. Also, assist you to create Bootable USB Drive
Win32 Disk Imager – It is a utility program to write image files for Microsoft Windows..
How to Download UNetbooin for Linux and Linux?
You can download the latest version of UNetbootin for Linux and Windows by clicking the download button.