What is Orca MSI Editor?
Orca MSI editor is a free software program developed by Microsoft Company. It is used to edit and make various changes in MSI file. Orca MSI download is an old-fashioned tool and is a part of Microsoft Developer Tools. Unfortunately, Microsoft has stopped maintains orca MSI download editing software. It is a Windows Installer package editor and has a basic GUI interface with all you need to edit MSI files in a great way.
Software specs
Developer

License

Free

Available in

English

OS Compatibility

Microsoft Windows

File Name

OrcaMSI.zip

File Size

1.5 MB

Category

Last Updated

March 25, 2020
You can easily access the database tables and data streams of the existing database and do changes on them. With Orca MSI download editing tool you can either import or export database table and alter schema. Orca also has transform and patches feature so that we can adjust data structure with comfort and without any loss of database integrity.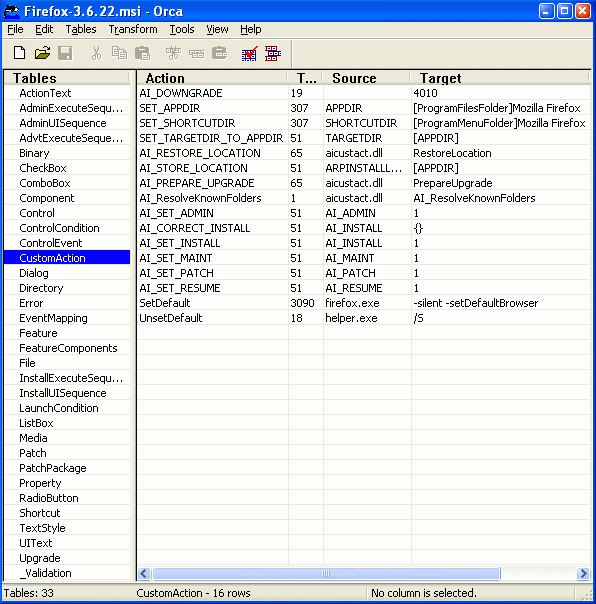 To modify an MSI file, first you need to download Orca MSI download editor and install it on your Microsoft Windows operating system. Its installation package comes in a compressed file. Simply open it with WinRAR or 7zip, extract the file and run orca.msi. Follow the instructions and install the program. After successful installation of orca right-click the MSI file you want to edit and select 'Edit with Orca' option from the menu. You can also drag your desired file onto orca program to edit. Before you edit MSI file keep in mind to create a transform to apply.
 Features of Orca MSI Download
Microsoft Orca is a freeware to edit msi, msm and msp database files.
Orca MSI download editor is designed to modify Windows Installer Package and merge modules.
Orca is used to validate and creates a Windows Installation Package.
With Orca free download MSI editing tool, you can open, read and write a database file.
Several operations like Import or export table, editing summary information stream, changing the existing database code page and adjust the schema of a table are also available in Orca.
Orca is also used to Add, edit or drop database tables and Rows.
You can also merge an MSM into a database through the user interface or from a command line.
Difference between two databases can also be performed by using transform and patches feature of Orca MSI editor.
Download Orca MSI Editor
Download the latest version of Orca MSI download editor by clicking on the download button given below. It is free and 100% safe and secure. Always keep a backup of your original MSI file in order to prevent MSI file get damaged.